Throughout this journey we call life, it is inevitable that we come to a fork in the road or the train gets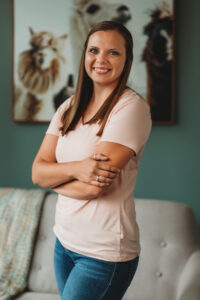 derailed. Not everything goes as planned! It is natural to face obstacles and barriers, and I am here to help you navigate around those obstacles and continue on with your journey.
I have experience working with children and older adults, but work with clients of all ages. My past work experience has allowed me to focus on issues of grief, hospice care, family dynamics, trauma, and children in foster care. During my schooling, I specialized in Mental Health and have assisted individuals with issues such as depression, anxiety, PTSD, bullying, attachment disorders, and severe behavior challenges. I received my Masters Degree in Social Work from the University of Illinois at Chicago Jane Addams College of Social Work and my Bachelors Degree in Social Work from the University of Iowa. My schooling and past work experience have allowed to me to focus on working with diverse client populations in both urban and rural settings, and has allowed me to work with a variety of issues that you may be seeking therapy for.
All of my clients have strengths that they can utilize and build upon throughout their progress in therapy. I believe in strong and transparent interpersonal relationships, and also encourage out of the box thinking to enhance progress for my clients. Each individual is unique, and I alter my therapy approach based on what each client needs and responds best to. I work together with my clients to develop goals and aspirations they would like to achieve throughout their therapeutic process.
YOU are the expert of your life and your experiences. I am here to assist you in navigating your own path to continue this journey we call life to the best of your ability.
Specialties / Issues:
Anger Management
Anxiety
Behavior Management
Children & Adolescents
Communication Issues
Coping Skills
Depression
Emotional Disturbance
Emotional Regulation
Family Conflict
Grief and Loss
Mood Disorders
Older Adults
Parenting
Peer Relationships
Personal Growth
PTSD
Self Esteem
Stress Management
Trauma